About the project
About the 1915 Project
In 2012, the National Archives and the National Maritime Museum began a project using volunteers to transcribe and make available online, all the surviving Merchant Navy crew lists from 1915. We would also like to acknowledge the significant contribution of Jan and Pete Owens at the Crew List Index Project without whose technical support and help this database would not have been possible.
As there are no records for individual merchant seafarers from this period, these records are of international significance in highlighting the vital contribution made by the Merchant Navy during the First World War. They are also of great value to family historians, as one of the few sources of information about seafaring ancestors active in 1915.
Approximately 39,000 crew lists featuring over 750,000 names were photographed and E-volunteers working on their home computer from as far afield as Japan, Mexico, New Zealand, Canada, Italy, France and Ireland, as well as the UK, transcribed these records to make them available and searchable online for the first time. This international effort demonstrates the global interest and demand for the information that these records contain and we thank all the volunteers involved.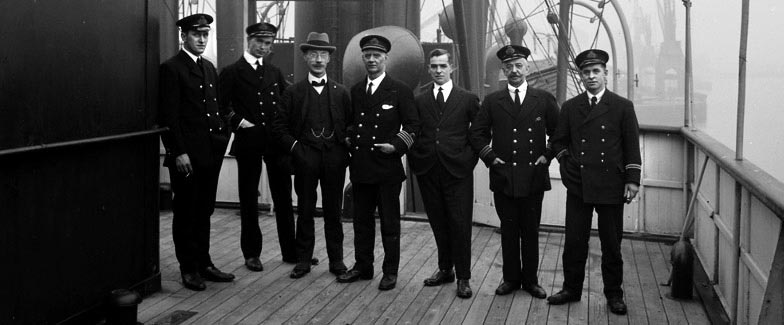 About the records
Crew lists (properly termed 'Crew Agreements') formed a contract between a seafarer and their employer. A seafarer signed on to serve for a defined period in the capacity (or rank) shown at the wages stated. Each agreement lists all the crew, their rank or rating, their address, rate of pay and dates of joining and leaving the ship. These range from small fishing boats and sailing barges, often crewed by father and son, to the largest passenger liners with whole departments of deck officers, seamen, engineering and victualling staff amounting to as many as 400 individuals. And it wasn't just men! Women feature in the crew lists too, as stewards, nurses, matrons and many other capacities. Even vessels that were sunk by enemy action sometimes appear in the lists, if there was time to evacuate the ship and save its documents.
About the merchant navy
The term 'British Merchant Navy' was not formally adopted until 1928 when George V made the Prince of Wales 'Master of the Merchant Navy and Fishing Fleets'. The term however was in common usage well before then. We use this term because other terms such as 'mercantile marine' or 'merchant service' are more confusing. It is also important to note that by no means all sailors in vessels registered under the British flag were British. As has become clear during the indexing project, the crews originated from all over the world and on some vessels British nationals were in a minority.